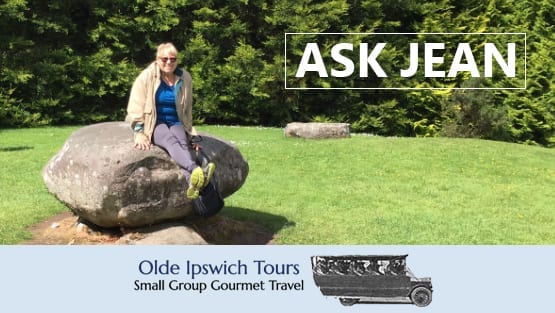 Ask Jean your travel questions
Jean Moss has been traveling all of her life and is the proud owner of Olde Ipswich Tours. Who better to ask a question about traveling? This could be as simple as how do we make phone calls to what clothing to take to Scotland. We'd like to share your question and answers if you don't mind but are happy to keep it confidential – just let us know as part of the question.
Whether you have questions about packing, tipping, weather or more, Jean is here to share her expertise! Ask Jean below.
[iphorm id="9″ name="Ask Jean"]
---
Questions & Answers
Liz writes: Do you have recommendations on travel insurance?
Hi Liz. This is a great question that we get all the time! Some reputable companies include:
International Travel Insurance
https://www.internationalinsurance.com/
1-877-758-4881
CSA Travel Protection
www.csatravelprotection.com/welcome.do
1-877- 243-4135
Travelex Insurance Services
www.travelex-insurance.com
1-800-228-9792

Travel Guard International
www.travelguard.com
1-800-826-4919
Theresa writes: Jean, what do I need to plug in my electrical appliances in Europe like my phone, my hairdryer, and my iPad?
Theresa, thanks for your question! You will want to purchase an adapter that will allow American plugs to fit into European outlets. The plugs in the United Kingdom and Ireland are different from those Continental Europe, but you can buy a universal adapter that will work for both. This will be more expensive and bulkier than a country-specific adapter, but might be worth it to you if you travel a lot. Don't feel like you need to splurge on this item – the less expensive options should work just as well.