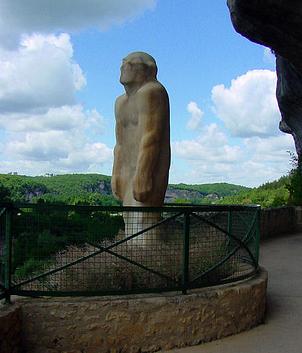 I've always had a fascination with prehistoric humans. Doesn't everybody? I read Jean Auel's Clan of the Cave Bear when it was published in 1980. Ms. Auel's beautifully written, fictional accounts of life in prehistoric times have since sold 45 million copies in many languages all over the world. So many of us are out there gobbling up her well researched theories of how Cro-Magnon and Neanderthal people felt, dreamed, worked, hunted, fought, played, and survived.
In 1997 my husband John, our five-year-old daughter, Nicole, and I were exploring the southwest part of France, in the beautiful region known as Périgord. This region surrounding the Dordogne River Valley would be our newest small group gourmet tour, to be called Bordeaux & the Dordogne. Since Rick Steves was probably still teaching piano at that time, the only guide book we had was the green Michelin Guide (still my favorite), and Karen Brown's book of country inn recommendations.
The Michelin guide directed us to the tiny town of Les Eyzies-de-Tayac (pronounced Layz-ayee-zee duh Taye-ahk), which we had never heard of. What an unforgettable surprise! We learned much from the guides in the National Museum of Prehistory—a must on anyone's visit to this area. They told us that Les Eyzies is the world capital of prehistory. This is where the scientific study of ancient humans was born! Throughout the Vézère Valley (the Vézère is a tributary to the Dordogne River), the discovery of a tremendous number of prehistoric sites—147 to date—led the entire valley to be placed on the UNESCO World Heritage List. Among these extraordinary sites are 25 caves decorated by Cro-Magnon humans from the Palaeolithic Period. It was here that Franco-Cantabrian Palaeolithic art was first discovered. The most famous cave, Lascaux (25 kilometers from Les Eyzies), which was discovered in 1940, is now closed to the public; but approximately half of the other 24 caves can still be visited today.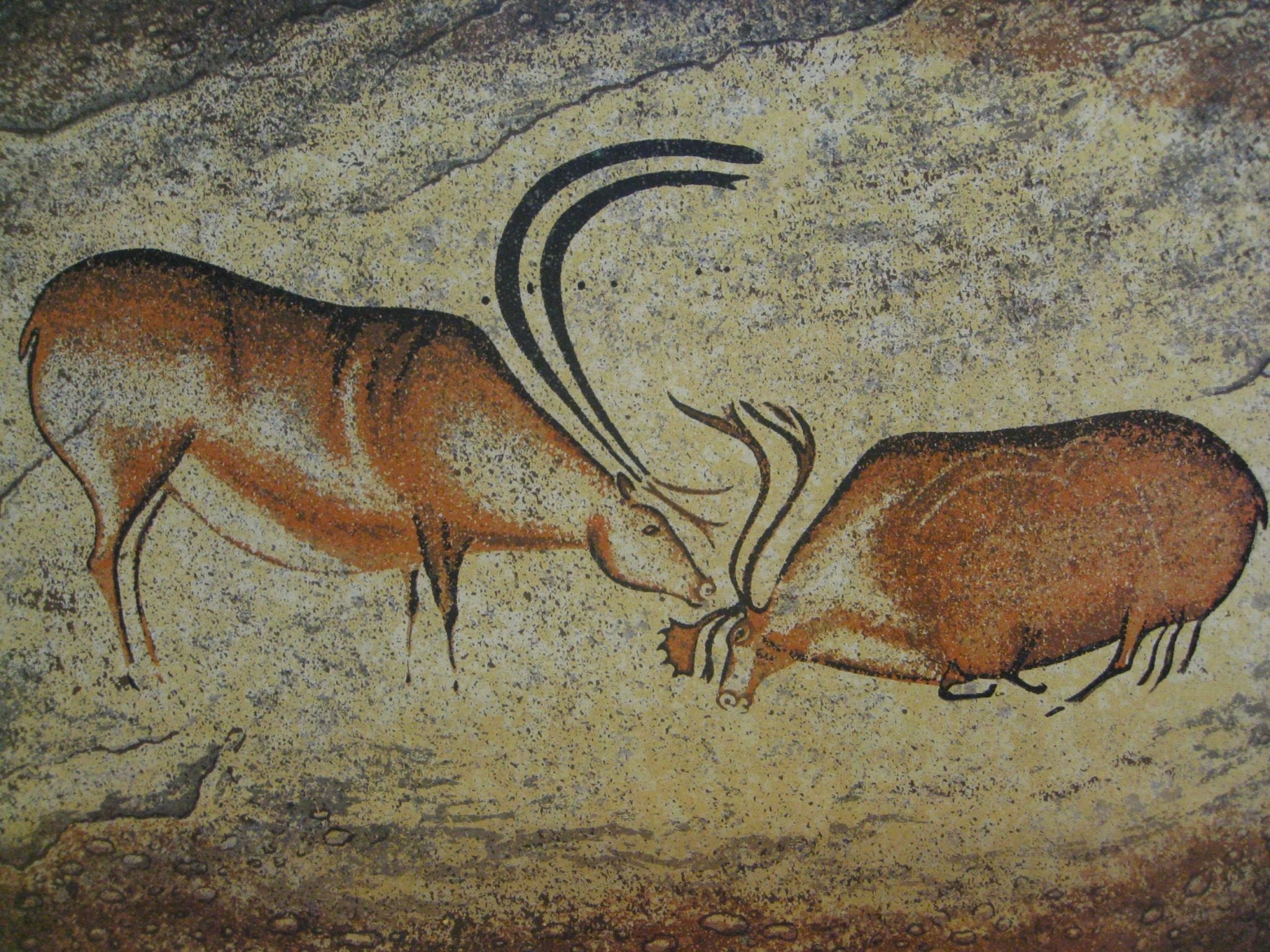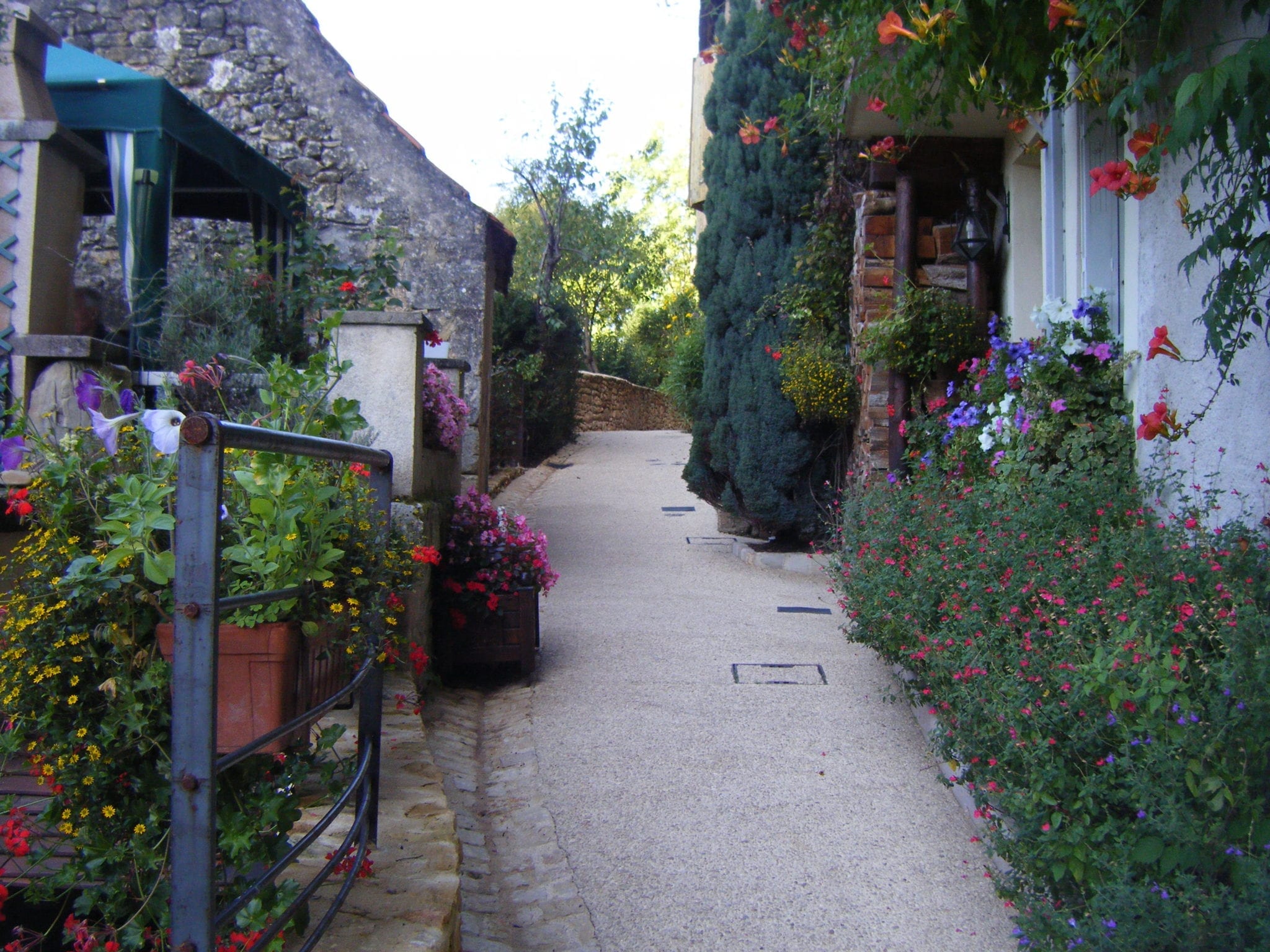 John and I easily decided that Les Eyzies must be an important highlight of our tour of the Dordogne region. We began scouting out hotels and fell in love with the charming Hotel Cro-Magnon, just a short walk to the museum and the village. The owner of the hotel, Valerie Besse, was friendly, helpful, kind, and knowledgeable about this very culturally rich region. We spent a few nights with her, intrigued by the rock walls of our room which were part of the limestone cliff that formed the back wall of the old building. We spent several days exploring the fascinating caves of Les Eyzies and the surrounding valley; learning about anthropology, the Palaeolithic and Magdalenian period; the Cro-Magnon and Neanderthal human groups; and seeing the amazing collections of the museum, dating back one million years. I started having nightly dreams about skeletons, thigh bones, dinosaurs, mammoths, and cave bears. To avoid spooky nightmares, we ultimately decided to include two days of prehistoric cave explorations on our tour itinerary but to choose a hotel as our base in the nearby lively, town of Sarlat—known for its beautifully restored medieval streets, gourmet food shops and restaurants.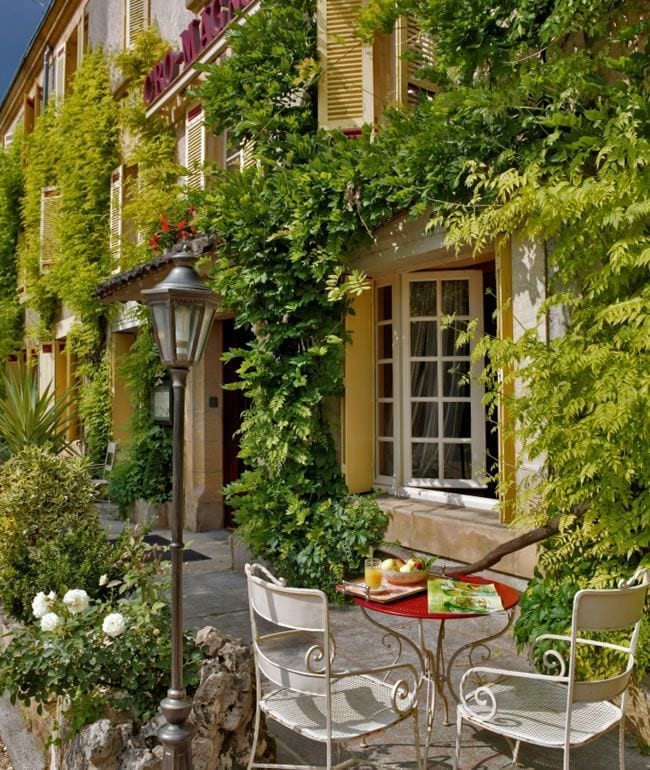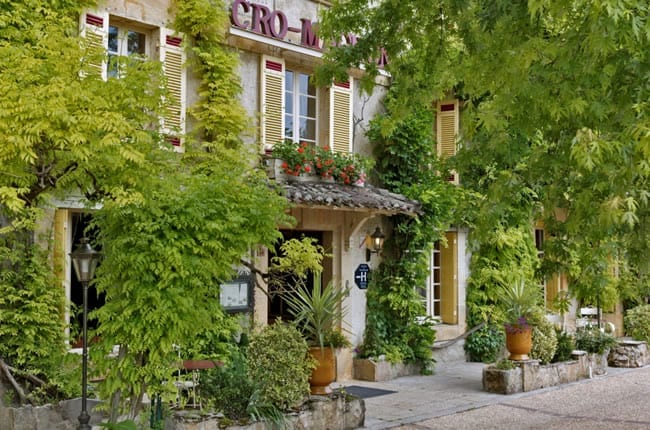 Year after year, beginning in 1998, Olde Ipswich Tours ran our tour of this delightful Dordogne Périgord region, bringing many American guests to the capital of prehistory. Our tours have always included at least one visit with a local archeologist expert guide to a cave with authentic cave paintings and engravings dating from 12,000 – 25,000 years ago: Font-de-Gaume, Rouffignac, Abri Pataud, Abri du Poisson, or Les Combarelles. We always bring our guests to the Hotel Cro-Magnon for lunch, where Valerie welcomes us warmly, and if the weather is right, our lunch is served in the beautiful garden.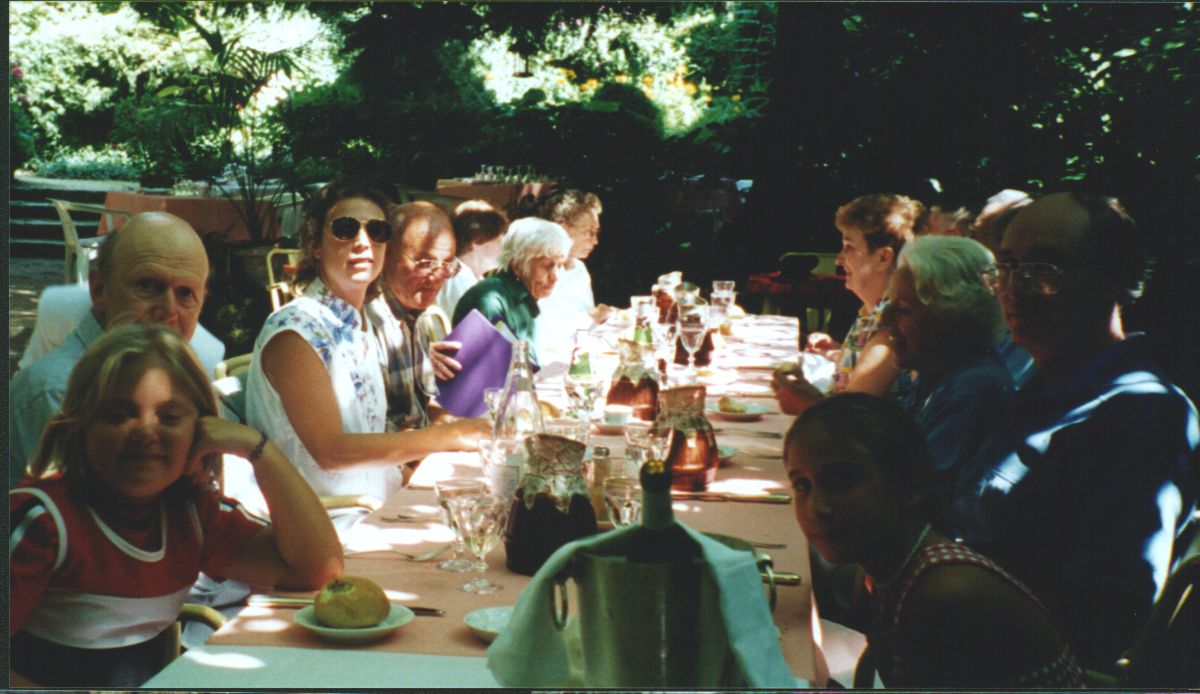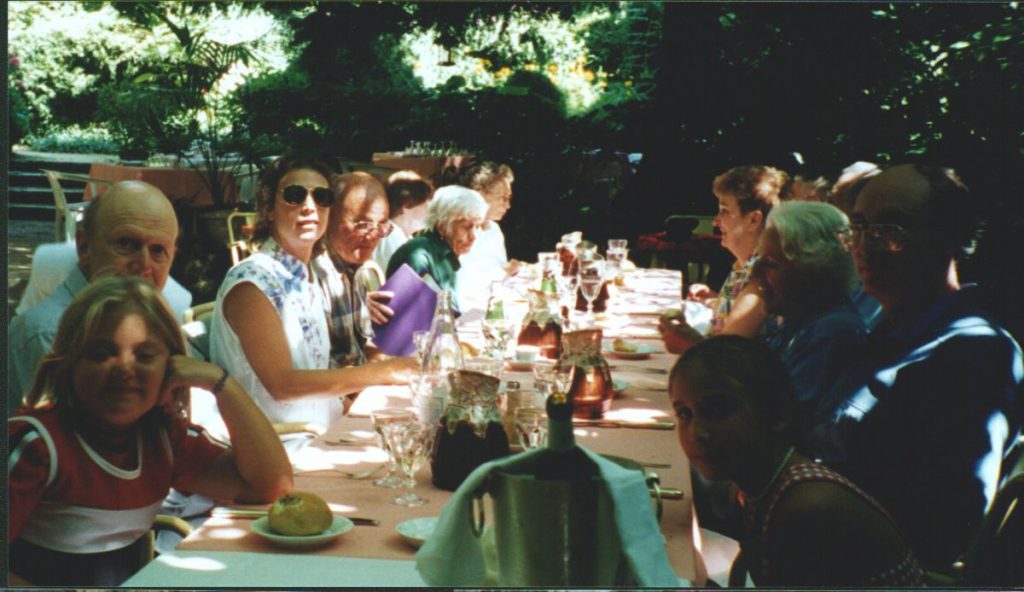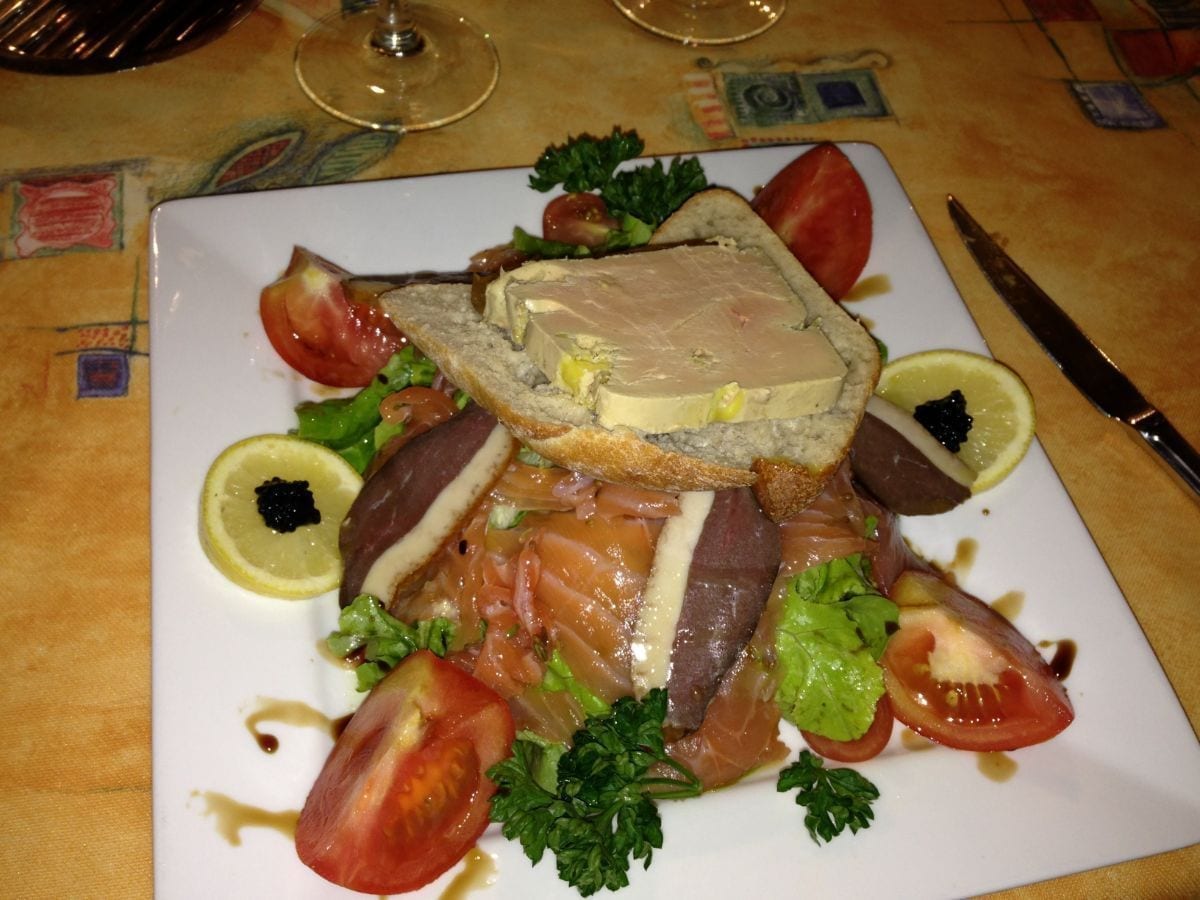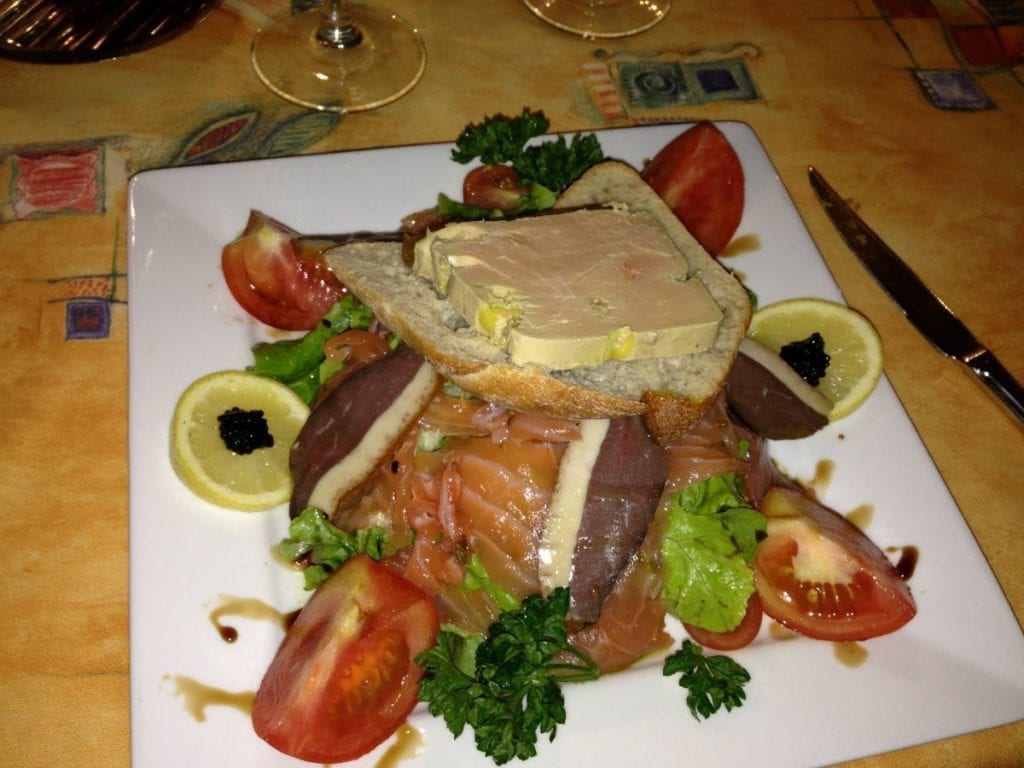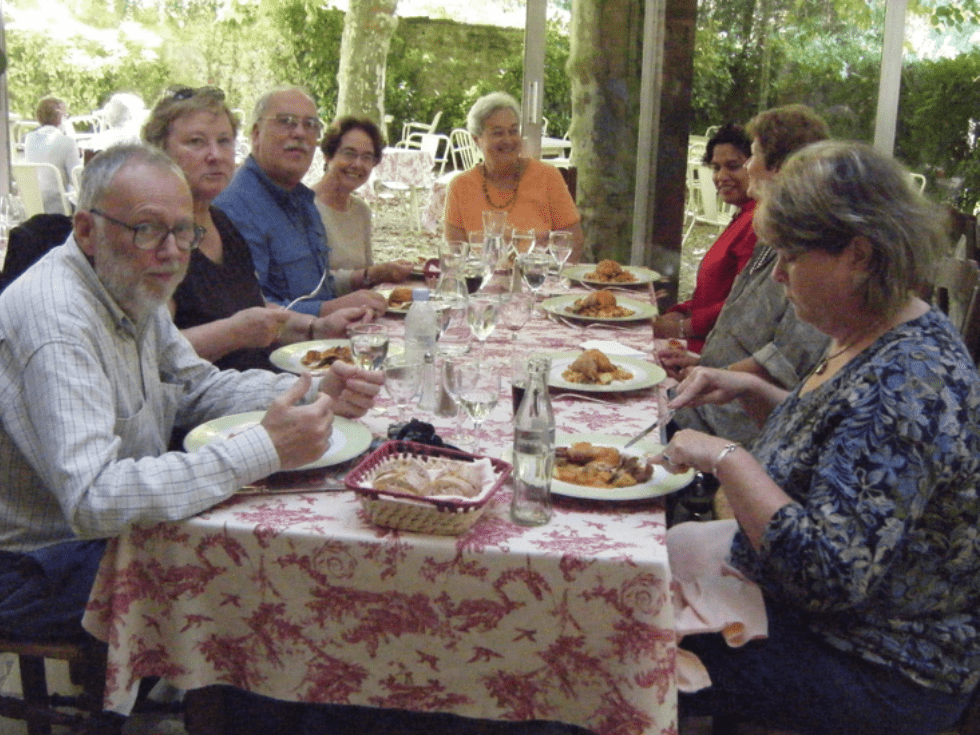 One year, while we sipped our local Bergerac wine in between courses, our waitress asked us if we would like to see the rock shelter behind the hotel. We all got up for a stretch, and she took us behind the building to a small indentation in the rock, forming a sort of scooped out shallow natural protected cup inside the mountain wall with an overhang. She told us that human bones and artifacts had been discovered here. Since we were all pretty new to the historic significance of Les Eyzies, we assumed this was one of many such shelters where prehistoric humans had sought cover. We noted that this shelter was different from the decorated caves we had visited with guides, who had explained that the elaborate drawings made by humans up to 25,000 years ago had all been painted or drawn in caves that had not been used as living quarters. Rather, we were told that these drawings had some religious significance, and were never made in the same caves as those inhabited by humans. From that year on, our lunch experience always included a visit to the rock shelter behind the Cro-Magnon Hotel.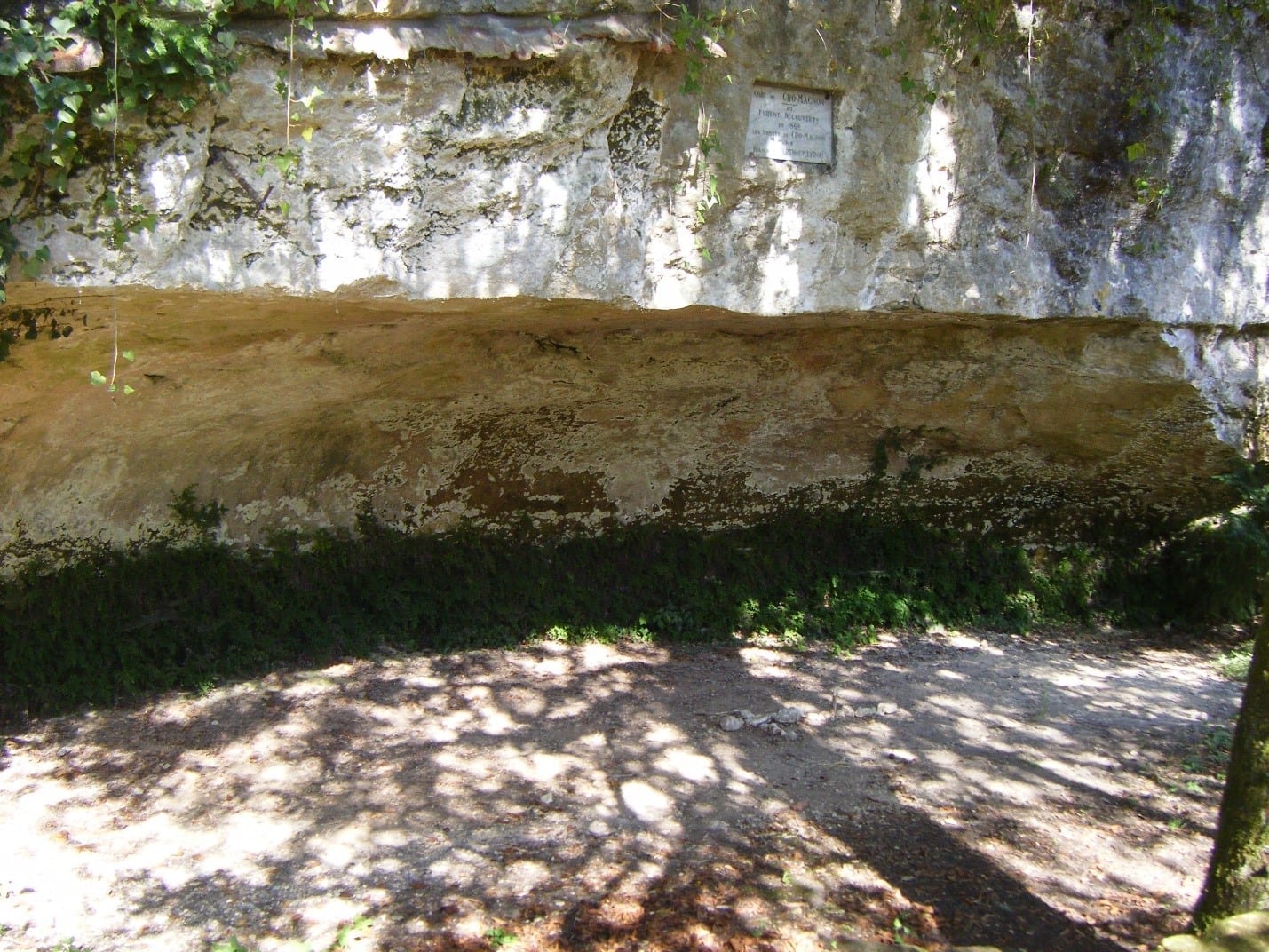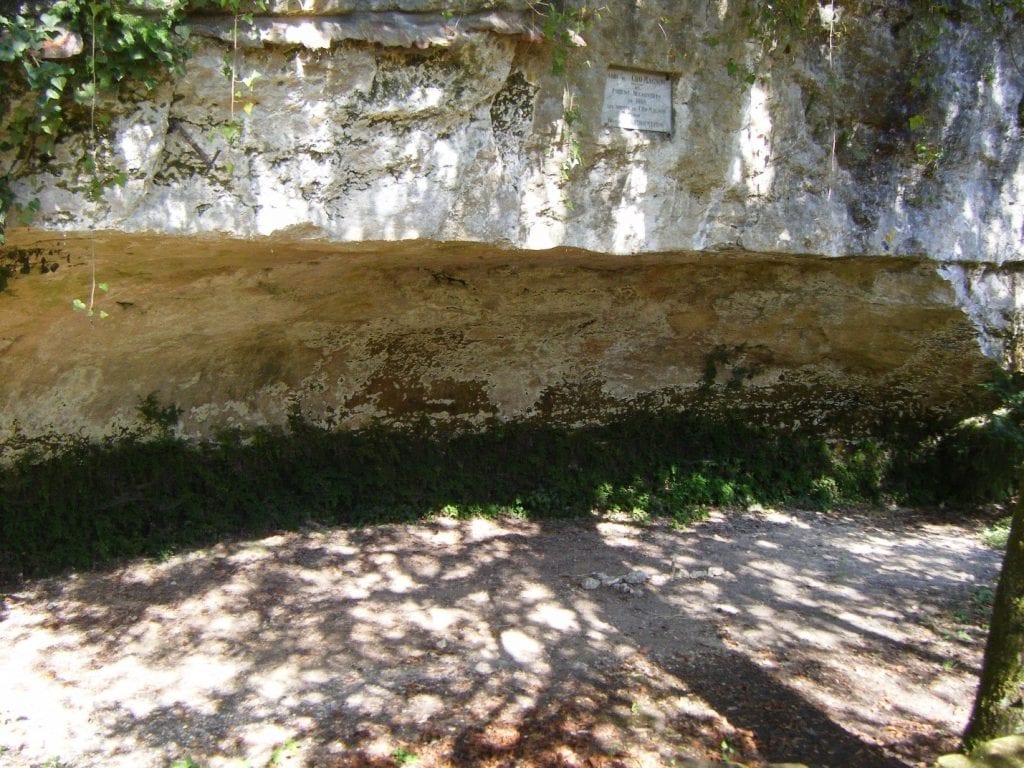 Each year, after lunch, we have always brought our guests to the National Museum of Prehistory for a private guided tour. Our guide has always been an outstanding, highly educated, enthusiastic expert on the anthropology of the Vézère Valley and the science of prehistory. No matter the level of knowledge of our guests, our guide always thrills us with fascinating facts about the artifacts in the museum, most of which were unearthed just a few miles from Les Eyzies.
A few years ago, our guide asked us where we had been for lunch. When I told her we always have lunch at the lovely Hôtel Le Cro-Magnon down the street, she exclaimed, "Oh my goodness! Let me tell you something wonderful about the rock shelter behind the hotel." The young archeologist guide could hardly contain her excitement. She said, "That tiny dent in the rock is the most important rock shelter in the entire valley—in fact, all of Europe!" That is where the very first prehistoric human bones in Europe were discovered in 1868! A local man named François Berthoumeyrou discovered some bones and brought them to a scientist, Louis Lartet. Monsieur Lartet ultimately uncovered five partial skeletons—four adults and one infant. These bones were found to be the oldest human bones ever discovered in Europe at that time. The discovery precipitated the continuation of the search for prehistoric human remains throughout the Vézère Valley, and thus was born the science of prehistory. The owner of the property which is now the Hôtel Le Cro-Magnon was a gentleman named Monsieur Magnon. This newly discovered branch of our species, Homo sapiens, was given the name Cro-Magnon, after Monsieur Magnon. Cro is an ancient Occitan word meaning hollow dug-out area or "hole". To think that this beautiful little unpresumptuous hotel—where the gourmet meals are excellent—is keeping such an incredibly important secret, is simply unbelievable! And to learn that the tiny picturesque village of Les Eyzies, known to only a small fraction of the most adventuresome, curious travelers, became the principal archaeological site for the Upper Palaeolithic Period,* to me is remarkable.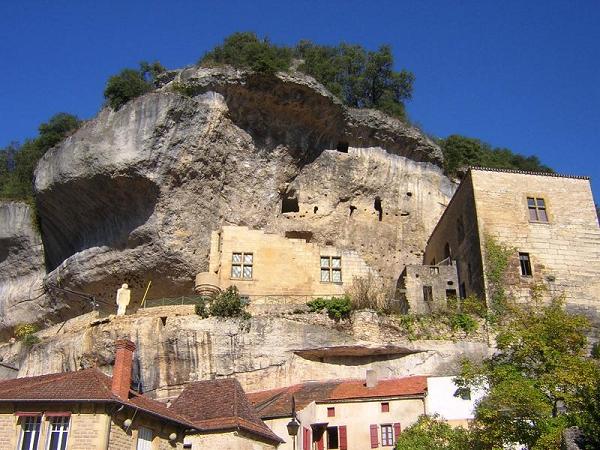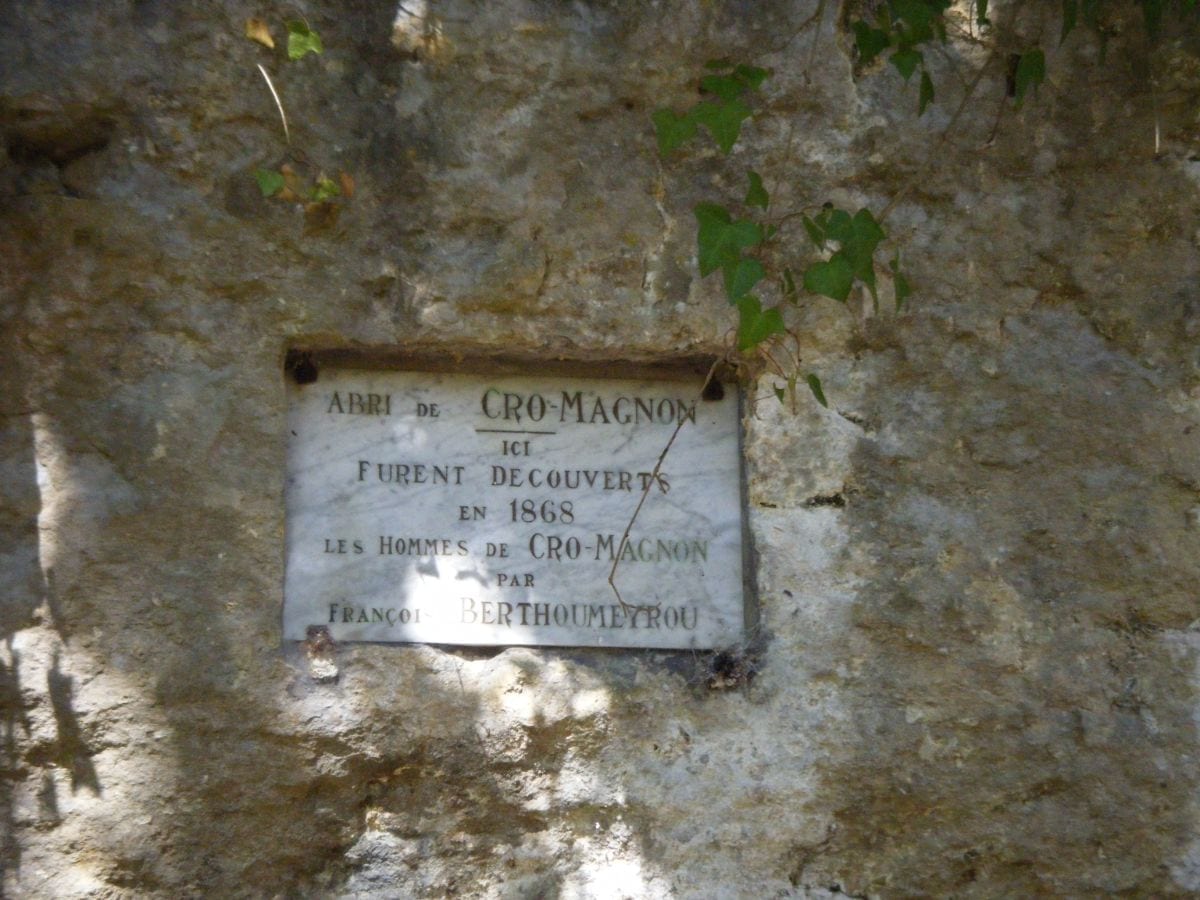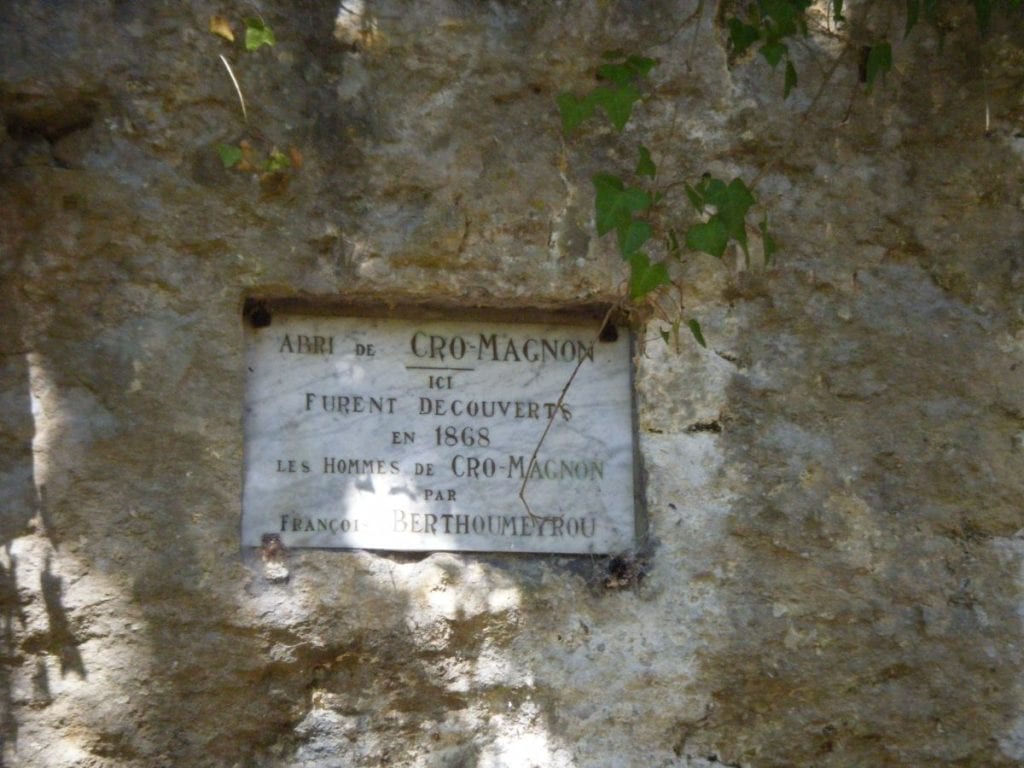 And so now, Olde Ipswich Tours guests on our Bordeaux & Dordogne tour can return home, saying, We have been to the capital of prehistory. We have learned about the origin of the name Cro-Magnon. We have dined at Monsieur Magnon's home. We have seen the very site where Cro-Magnon skeletons were first discovered. We have learned something about how our early ancestors lived and survived. We have seen up close the art they created, reproducing the animals they came to know, so that we now can understand a little more about life 25,000 years ago.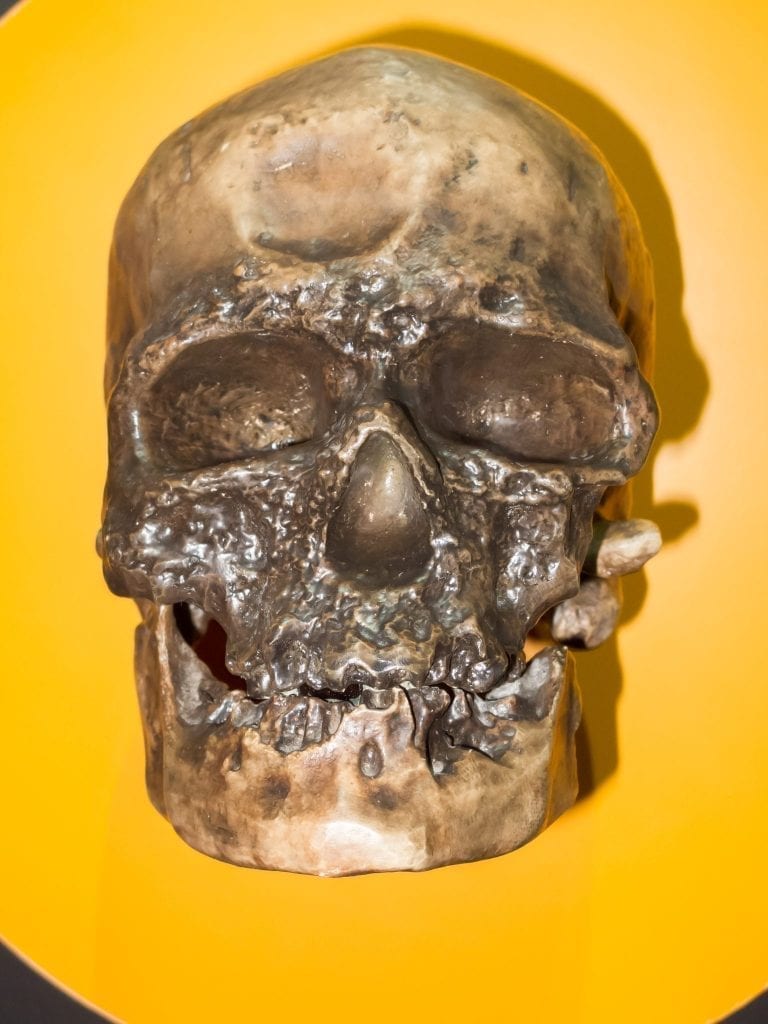 Please join us on our next Bordeaux & Dordogne small group gourmet tour, or ask us to plan a custom tour there just for you.
*Encyclopedia Britannica; https://www.britannica.com/topic/Cro-Magnon