Carcassonne, France to Barcelona, Spain Tour Snapshot
From the Knights Templar and the Cathar battlefields of Languedoc, France, to the majestic Pyrénees Mountains and Catalonia, Spain; to Barcelona and the Penedès wine region: an exciting journey of history, rugged beauty, and exciting cuisine and culture.
Tour Dates: September 24 – October 6, 2020
Tour Price: $7,699
Tour price includes:
Roundtrip airfare from Boston or New York to Toulouse; return from Barcelona*
Airport transfers
11 nights in elegant accommodations of regional character: Toulouse (1),
Carcassonne (2), Bélesta (2), Puigcerdà (2), Barcelona (4)
All breakfasts, 5 lunches, 8 dinners
Full-time tour leader
2 wine tastings (1 in Limoux, 1 in Penedès); 1 tasting at an artisanal brewery in
Blanes; 1 tasting with a Pyrenees cheese producer; and 1 tasting with a honey
producer in Saint-Hilaire
1 private cooking class in Barcelona
Local expert English-speaking guides in Castelnaudary, Carcassonne, Saint-Hilaire, Narbonne, Couizas, Quéribus, Perpignan, Figueres, Barcelona, and Montserrat
All museum and attraction entrance fees
Transportation by comfortable air-conditioned mini-van or minibus
All tips and taxes
*Cost of airfare can be deducted if you wish to make your own arrangements.
Carcassonne, France to Barcelona, Spain Itinerary
We depart the United States, flying overnight to Toulouse, Southwest France.
Day 1
We arrive at the Toulouse Airport and drive to our elegant hotel in the historic city center. We enjoy a welcome apératif before taking some time to relax and explore before dinner. Tonight we enjoy a delicious welcome dinner.
Overnight: Toulouse
 Meals: D
Day 2
This morning we head to Castelnaudary, an important port on the Canal du Midi and a UNESCO World Heritage Site since 1996. The section around the Grand Bassin—the old canal port—is the most scenic and impressive part of town. After a guided walking tour of the old town, we enjoy a tasting of traditional cassoulet, a tasty local dish made primarily with confit de canard and white beans. After lunch we continue to Carcassonne and check into our beautiful hotel within the ancient walls of this unique town, which is also designated a UNESCO World Heritage Site. The three kilometers of 13th-century ramparts contain 52 towers and an impressive castle. We wander the car-free streets and walk to dinner at a charming local restaurant.
Overnight: Carcassone
 Meals: B, L, D
Day 3
Today we take an excursion to Limoux, a wonderful town in the southwest of the Languedoc region. We visit a family-owned winery for a tour and then have lunch including a tasting of different Languedoc AOC wines. We proceed to Saint-Hilaire to visit the Abbey of Saint-Hilaire with its ten centuries of history. Then we meet a local honey producer, who uses traditional methods to make honey, a historic local product. We return to Carcassonne for a free evening.
Overnight: Carcassone
 Meals: B, L
Day 4
This morning we leave for Narbonne. We meet our local guide to explore the amazing heritage and architecture of this ancient Roman seaport. One highlight is the striking Cathedral of Saint Jus and Saint Pasteur, a masterpiece of 14th-century European Gothic art. Situated in the very heart of the medieval historic center, the cathedral, along with the cloister and the Archbishop's Palace, present an impressive monumental complex. Overlooking the canal is the 1901 wrought-iron and glass market, Les Halles, where we enjoy lunch made with local products. We proceed to Bélesta de la Frontière, a picturesque, charming village surrounded by vineyards. The views of Bélesta include the majestic Mount Canigou, the emblematic mountain of the Eastern Pyrenees and a symbol of the Catalans. The mountain formerly marked the frontier between the kingdoms of France and Aragon before the annexation of Roussillon by France under the Treaty of the Pyrenees. Upon arrival, we enjoy a welcome reception and dinner at our hotel.
Overnight: Bélesta
 Meals: B, L, D
Day 5
This morning we drive to Couiza to visit the Rennes le Chateau Church, rich in esotericism. The small village perched on a mountain is surrounded by the mystery linked to Abbot Saunière and the alleged discovery of the "treasure of Jerusalem" (remember The Da Vinci Code?). After lunch on our own, we continue toward Quéribus to visit the amazing castle that stands on a rock formation 728 meters above sea level. Quéribus is one of the "Five Sons of Carcassonne," five castles strategically placed to defend the ancient French border with Spain. It is also regarded as the last Cathar stronghold, after the fall of Montségur. We return to Bélesta for some free time before dinner.
Overnight: Bélesta
 Meals: B, D
Day 6
This morning we head to Perpignan, the last city before the Spanish border. This Catalan-flavored town is set in a perfectly-shaped natural environment and is characterized by a charming Mediterranean architecture, winding medieval streets and lively squares lined with palm trees. After lunch we leave France and arrive at our hotel in charming Puigcerdà, Spain. We have time to explore before going out to dinner at a local restaurant.
Overnight: Puigcerdà
 Meals: B
Day 7
Today we visit Andorra La Vella, the capital of the Principality of Andorra and the highest-altitude capital in Europe. We stroll around the Barri Antic (the old town) and travel through history. This area has been the heart of the city since the principality was little more than a village, and it still has the ancient winding layout, cobbled streets, and attractive stone houses that were typical in the Middle Ages. After lunch at leisure, we visit a Pyrenees cheese producer, where we learn about the PDO (Protected Designation of Origin) cheeses produced in this area. We return to Puigcerdà for a free evening.
Overnight: Puigcerdà
 Meals: B
Day 8
On the way to Barcelona, we stop to see the most important monastery and pilgrimage destination in northeast Spain: the Benedictine Monastery of Montserrat. Our excursion to this mountain-top monastery offers an opportunity to see spectacular mountain scenery. Inside the basilica is the 'Moreneta' (the Little Dark One), the popular name for the Black Madonna of Montserrat, the patron saint of Catalonia. We continue on our route to Barcelona and check into our hotel in the city center. This evening a special paella dinner with Flamenco dances and live music welcomes us to this fascinating city.
Overnight: Barcelona
 Meals: B, L, D
Day 9
This day begins with a guided tour of the most important sites of Barcelona. From Montjuich, the hill overlooking the city, we enjoy the best views of the surrounding region and see the Olympic Ring and the Trade Fair site. We visit the Old Port area and the Columbus Monument, the Gothic Quarter and cathedral, and the city's most elegant boulevard, Paseo de Gracia, with its outstanding Modernist buildings and Gaudi's Sagrada Familia, Barcelona's most famous landmark. We continue with a special street food lunch at the Boquería Market, the best way to experience Barcelona's culture and taste local food at lunch. In the afternoon, we meet a Spanish chef for an entertaining cooking class. We learn to make delicious Spanish dishes using traditional methods and ingredients. We then enjoy dinner with our dishes.
Overnight: Barcelona
 Meals: B, L, D
Day 10
Today, we explore the scenic Penedès wine region. Known also as the 'Land of Cava' (Cava is the official name Spain's sparkling wine or champagne), this region offers us the chance to visit a winery. After lunch en route to taste the Mediterranean cuisine, we return to Barcelona and enjoy some time at leisure.
Overnight: Barcelona
 Meals: B, L
Day 11
This morning, we take a guided walking tour, visiting some of the famous streets in the Ensanche and seeing some of the 150 buildings designated to be of particular artistic and historical merit by the autonomous government of Catalonia. Antoni Gaudi is considered to be the most talented and innovative of the Modernist architects. We see some of his most impressive creations: the Batlló House, the Milá House, Park Güell, and his unfinished masterpiece, Sagrada Familia. The afternoon is at leisure. Our farewell dinner tonight is a wonderful experience at one of Barcelona's finest gastronomic restaurants.
Overnight: Barcelona
 Meals: B, D
Day 12
We transfer to the Barcelona Airport for our return flight.
 Meals: B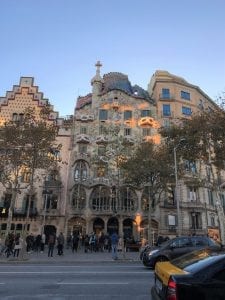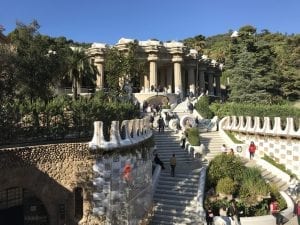 More photos coming soon.
Request a Brochure - Carcassonne, France to Barcelona, Spain