Switzerland Tour – Day 2: Lucerne and Brienz
Our friendly Swiss driver Rolph picked us up in his shiny new Eurobus 16-passenger minibus at 8:30am sharp. Everything is sharp to the minute here. I guess that's because they have so many clocks and watches.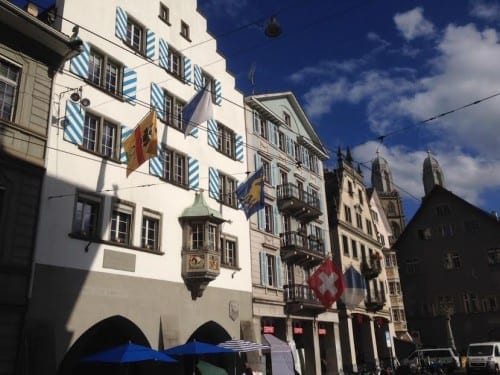 We took a beautiful drive south into the mountains to the beautiful medieval town of Luzern. If you have not yet been to this jewel of a Swiss town, you must put it on your life list. Our guide, Anna Marie, could not have been better, pointing out all the most interesting buildings, lots of stories, and beautiful vistas during our two hour walk around the lake and the old town.
Then another gorgeous drive through the mountains, passing picture perfect little villages dotting the very green hillsides, brought us to our next destination, the beautiful, historic Grandhotel Giessbach, which warrants its own point on the map.
We checked in while a piano player created a dreamy turn-of-the-century atmosphere, and then explored the gorgeous grounds on the shore of Lake Brienz. There is a giant roaring waterfall right in front of my balcony. Lots of families on Sunday outings were hiking around it after lunch in one of the hotel's restaurants. We all met for a cocktail in the lounge before a wonderful dinner in the gastronomic restaurant overlooking the lake.
Stay tuned for more information from our Switzerland Tours!